Dataro Fundraising Benchmark Report:
2023 Interim Report
Over 143 million donations from 151 organizations analyzed to provide nonprofit fundraising professionals with global fundraising trends, insights and benchmarks from the first half of 2023 (January to June).
Download the FREE report now to benchmark your results and see how your fundraising efforts stack up against the 'norm' so far this year.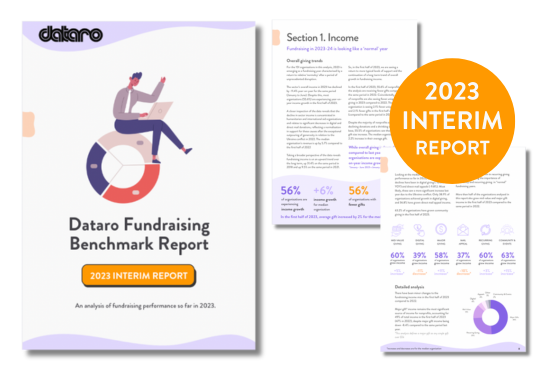 About the report
Dataro's mission is to solve the big (and small) data problems facing nonprofits and help them build a better world through smarter fundraising.
The Interim 2023 Dataro Fundraising Benchmark Report analyzes the fundraising data of 151 global nonprofits, covering 143 million donations, 13.2 million donors and 3.9 million monthly donors to provide an interim view of fundraising performance so far in 2023 (January to June).
The aim of the report is to highlight emerging fundraising trends and provide fundraising professionals with meaningful data, insights and benchmarks to understand their nonprofits' performance within the wider fundraising landscape of 2023.
Readers can expect to learn how nonprofits are performing so far in 2023 across different sub-sectors and fundraising programs.
We hope you find the insights helpful for your fundraising.